Our Team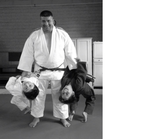 Robert Coelho – Judo Instructor
Robert Coelho – Judo Instructor
President/Head Coach
(NCAS Level 1)
Robert began Judo in 1984 as a junior at the South/Port Melbourne Judo Club and later with Southern Judo Club during his teen years. As a senior trained at numerous clubs around Australia given his involvement with numerous law enforcement agencies. He currently holds the rank 1 KYU and is the Head Coach at the Grampians Judo Club.
During his competitive career, Robert regularly competed at both State, National, and International levels. He continues to compete in Masters Championships.
Robert has been providing Judo classes and internationally accredited defensive tactics system instructions around Australia for over 20 years and is inspired by Jigaro Kano's desire to help people be the best they can.
Clinton Vermaak – Boxing / Kick Boxing Coach
Clinton Vermaak – Boxing – Level 1 Boxing Vic / Kick Boxing Coach
Clinton has been involved with full contact sport since the age of 7. At the age of 13, he started to box after falling in love with science. Clinton was chosen for the combined defense force Boxing team in 1990(light-heavyweight), and was also a frequent combative in shoot boxing, kickboxing, and full-contact karate, competing in South African All Styles Full Contact Karate Championships in 1992, he also achieved Transvaal Champion and became South African TSD Full Contact Karate Champion in 1992.
Clinton has coached many boxers over the years, from a first punch thrown to an Australian Title shot. As the founder of Brawl in 2008, following the heartstrings of his passion, boxing, he is also the creator of Brawl ADU System.